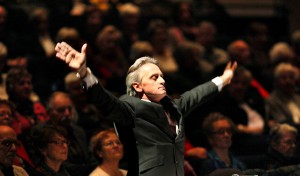 Bo Wannefors graduated from the Royal College of Music in Stockholm in 1983 and over the past 30 years has established himself as a widely sought after  conductor, pianist, coach and musical-arranger, working with The Swedish Royal Opera, Malmö Opera, Gothenburg Opera, Det Koglige Copenhagen as well as at the Royal College of Music and the University College of Opera in Stockholm and Gothemburg. From 2009- 2012 he was Musical Director of the ÖlandsOpera and since 2010 together with Erik Hellerstedt he is Musical Director of Uppsala University Dramatic Chorus.
Bo Wannefors, who studied choral direction with Eric Ericson and works regularly with the Eric Ericson Chamber Choir and the Swedish Radio Choir. With these choirs he has been responsible for choral preparation in their collaboration with Claudio Abbado and the Berlin Philharmonic Orchestra in concerts in Berlin and Salzburg, most recently with Beethoven's Choral Fantasia, Mendelssohn's Lobegesang, Schumann's Scenes from Faust, and Verdi's Requiem. He has been chorus master for several recordings including Tchaikovsky's Mazepa (N. Järvi), Verdi's Requiem (C. Abbado), Korngold's Die tote Stadt (L. Segerstam), and the Stockholm Royal Opera Choral Anthology (S. Ehrling).
From 1987 to 1999 he was Chorus Master and Repetiteur at the Stockholm Royal Opera, working with over 90 opera productions including not only the major repertoire operas of Mozart, Wagner, Verdi, Puccini and Strauss, but also many contemporary pieces.